Club Manager
We are extremely proud
to introduce our new Club manager, Christina Delacruz, who possesses a vast
amount of experience in the food industry. She was born and raised on the
central coast. Since a young age she has had a passion for food and has been
serving the central coast for over (9) years as a chef in fine foodservice
establishments. For the past 9 years Christina has continued to refine her
craft at savory and healthy meals. Her passion for cooking gives everything
that extra ounce of deliciousness.
Chef Christina has excellent resources at her disposal and the ability to
transform ordinary ingredients into a broad range of delicious meals. Her
innovative approach and great passion for culinary and hospitality industry is
a great asset.


Please give her a warm
welcome by saying hello the next time you see her in the lodge.
Contact Christina
Delacruz for Ballroom information and/or reservations at 805-736-2274 or by
email clubmanager@lompocelks.com
Lodge Facilities
The Lompoc Elks Lodge provides a wide range of facilities for its members and guests, that offers a full-service dinning facility and bar.
For entertainment the Club will host musical groups for the listening and dancing pleasure of the members and guests.
A game room is also provided for those who want to play pool, shuffleboard, darts, and board games.
Ballroom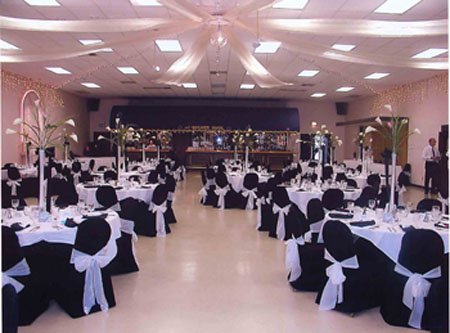 The Ballroom is used for catered parties and large Elks events.We can seat up to 280 for dinner with full service bar, dance floor, and have available a full staff for your event. Perfect for office retreats, meetings or parties.
Discounted rates for members.
We offer a large parking area for your event. We have a full kitchen is able to cater your party from everything from breakfast to an elegant dinners.
Game Room

The Game Room is adjacent to the Elks Lounge. Access is controlled for members and supervised guests only. The Game Room provides a Pool Table, Shuffleboard, Card Table, Darts, and Board Games.
Lounge
The Lounge provides a warm and friendly place for members to socialize and enjoy featured entertainment. The Lounge has a capacity of 250 people with a bar and dance floor. Cold winter nights become warm with the wood fireplace. ATM is available to provide for your financial needs.
BBQ Facility
The Lodge has a BBQ facility that features four large gas fired BBQ Pits.
Adjustable grates enable members and guests to BBQ their own meat to suit their taste. Every Friday Night, the Lodge has a Cook-Your-Own (CYO) and more dinner, when members and guest can purchase from a large selection of meat, chicken or fish and cook it themselves.
The Club also uses the BBQ facility to support catered events.